Spring Bulbs 3 packs for £5
Welcome to Stansted Park Garden Centre
Located in the South Downs National Park you will be hard pressed to find a Garden Centre in the UK in more picturesque surroundings.
A visit to the Garden Centre is not complete without visiting our Blossom Cafe with beautiful outdoor seating area, or a walk around the Historic Stansted House.
If local produce is your thing, our friends at the Farm shop can help with local produce, or enjoy a home baked Pizza before trying to conquer the Maze!
Relax on the lawn while the kids play on the new play centre, before a trip on the Railway....
A true day out which makes a change from the beach...
PLANT OF THE WEEK: RHODODENDRON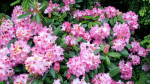 The shadiest corner of your garden becomes the highlight of your spring display when you plant a rhododendron – probably the most brilliantly-coloured of all the early-flowering shrubs with masses of sumptuous blooms in every hue from deepest scarlet to magenta pink.
All varieties of rhododendron like a moist, acidic soil and dappled shade, where they'll make a sizeable and very showy shrub in time. If space is limited, or you garden on neutral or chalky soil, don't worry: you can still enjoy rhodies. Just choose a compact variety bred to thrive in containers filled with ericaceous (acidic) compost for an equally spectacular display each spring.
Leaving soil bare to the elements for any length of time is a recipe for disaster. Soil structure is a delicate thing, and if it's pounded into a hard cap by relentless rain, baked by the sun and then colonised by tough, hard-to-eradicate weeds it's no wonder you struggle to get anything to gr…
Read more
Feeding potted bulbs
Greenhouse bulbs that have now finished their flowering ; but which still have green leaves ; should be fed. Hippeastrums (amaryllis, pictured), cape cowslip (lachenalias) and freesias are included here. Give a fortnightly dose of liquid tomato feed ; it will build up the bulbs as they go into their summer rest. When the leaves are mostly brown, or dry, stop the feeding.
Weather forecast
Current weather
Sunny
13°C
Forecast Sun
Sunny
Forecast Mon
Sunny