Welcome to Stansted Park Garden Centre
Located in the South Downs National Park you will be hard pressed to find a Garden Centre in the UK in more picturesque surroundings.
A visit to the Garden Centre is not complete without visiting our Blossom Cafe with beautiful outdoor seating area, or a walk around the Historic Stansted House.
If local produce is your thing, our friends at the Farm shop can help with local produce, or enjoy a home baked Pizza before trying to conquer the Maze!
Relax on the lawn while the kids play on the new play centre, before a trip on the Railway....
A true day out which makes a change from the beach...
Plant of the Week: Daffodils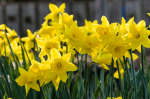 You know spring has sprung when the first daffodils open. That cheery yellow is just the right shade for lifting the spirits after the dark days of winter, and you know that things are just going to get better from here.
They're fantastic value for money, giving years of pleasure for just a few quid. If you didn't get around to planting bulbs last year, just pop down to the garden centre and pick up some ready-potted daffodils bursting into flower right now. Cram spring containers with zingy shades of orange, yellow and white, or just plant them straight into your borders for a burst of pure springtime beauty.
You don't need to have masses of space to enjoy the beauty and movement of a water feature. Even if all you've got is a patio in Rowlands Castle, you can still have a pond: just build one in a half-barrel container.
You'll find rustic half-barrels available year-round at our garden cent…
Read more
Sow peas in guttering
Sow an early variety of pea such as 'Meteor' in a section of plastic guttering for an instant row you can just slide into place. Drill drainage holes in the guttering first, then fill with compost and sow: once they're up you can make a trench in the soil and just slide the whole row straight in.
Weather forecast
Current weather
Smoky
8°C
Forecast Mon
Showers
Forecast Tue
Showers